From tough to please in-laws, thoroughly unimpressed with the effort you've put in, to the endless crush of holiday traffic making a mile down the block feel like an endless journey, no matter what holiday woes
Surprising Hidden Safety Hazards to Be Aware of for Children This Holiday SeasonAs road trip-weary relatives around the country eagerly pile out of their comfortable four-door sedans and into the festively lit driveways of thei...LittleLambLane.com are weighing you down, it's nice to go into some of the most important meals of the year with a simple something that's a little lighter to lift your spirits.
While Thanksgiving and Christmas dinners usually revolve around meat and potato style staples
7 Delicious 30 Minute Meals for Busy MomsAs moms, one of the greatest challenges we face on a day to day basis is clearing the evergrowing hurdle of our expanding to-do's. Between goals ...LittleLambLane.com, there's no rule on the books saying that you can't give them an easy, healthy, and delicious twist.
Small changes like adding extra veggies to the side dishes you already prepare or swapping the butter you traditionally cook with for a little bit of extra virgin olive oil can lead to a big payoff when trying to health up
Self-care: How Acupuncture Actually Affects Your Wellness while PregnantAsk any woman with a little of her own, or a baby on the way, and they'll more than likely tell you just how wonderful pregnancy is not. The aches...LittleLambLane.com your holiday feast.
For a healthier spin on your holiday
12 Holiday Traditions from cultures around the world to implement with your familyWith a chill in the air, frost appearing on the ground, and bells ringing on every corner, the holidays have arrived in full force bringing familie...LittleLambLane.com meal, try replacing your standard turkey or beef gravy with a lighter and tastier vegan mushroom gravy. Looking for a side that can pack a punch, try swapping the standard mashed or roasted potatoes for quinoa or farro for a more impressive holiday offering.
While it might seem like a small addition now, a tasty vegan friendly swap this year could very well be the first step on the path to a healthy family
The Real Reason Why Bokashi Composting is Essential to Your Family's WellnessIf you've got a green thumb and a little experience in the garden, you may already know just how powerful compost can be. While the effects on yo...LittleLambLane.com tradition for years to come.
6 Simple Vegan Side Dishes That Make the Perfect Addition to Your Holiday Meal
Quinoa & Mushroom Stuffed Acorn Squash – Jar Of Lemons: Easy to make, and incredibly satisfying the warm and nutty flavors of acorn squash blend delightfully with the tangy spice of onions and red peppers. This simple side is the perfect accompaniment for a hot meal on a cold day
7 Last Minute Holiday Sides You Can Make With What's in Your Pantry Right NowWith your perfectly chosen gifts beautifully wrapped and tucked neatly under the tree, your lovely decor creating a whimsical aesthetic, and the ra...LittleLambLane.com.
Baked Sweet Potato Wedges + Garlic Aioli – The Simple Veganista: Not only are these sweet treats vegan-friendly, they're incredibly easy to make with only five ingredients, and packed with nutrients. For your next snack or side, skip out on the oil logged french fries in favor of this delicious healthy fare.
Amazing Vegan Mac and Cheese – Cookie + Kate: Smooth, creamy, and about as close to real cheese as you can get while keeping things dairy-free, this dish is an absolutely unbeatable addition to your daily dinner. Add in some fresh veggies to keep things light and add a pop of nutrients, or serve up plain for the perfect simple side.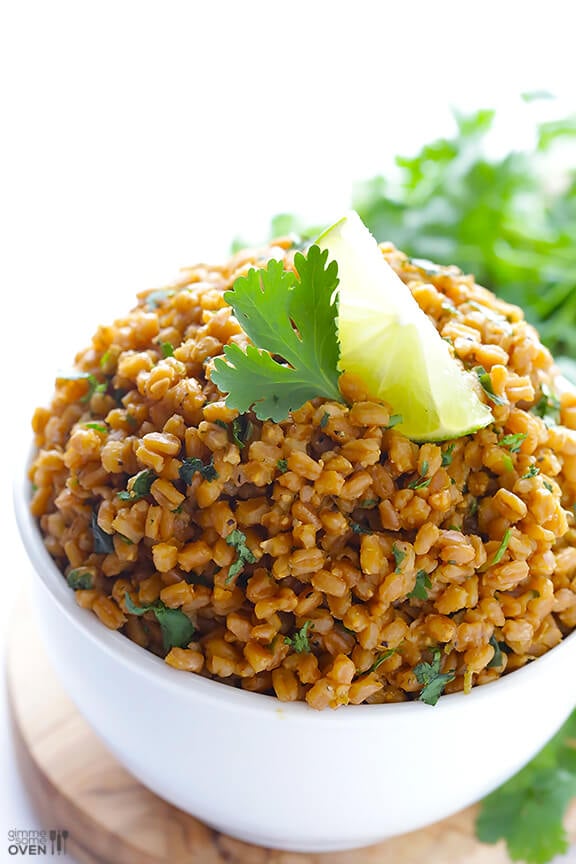 Cilantro Lime Farro – Gimme Some Oven: This dish blends a light citrus taste with the nutty warmth of farro, and adds a deliciously fresh note with cilantro. Not only is this simple side easy to make, farro is an ancient grain packed with protein, incorporating an extra nutrient boost into your next meal.
Middle Eastern Roasted Eggplant With Couscous – Recipe Tin Eats: A long-time favorite for many vegans, the warm, hearty flavor of roasted eggplant blends well with the fresh herbs of the couscous topping, and chermoula paste gives the entire dish a unique flavor that bringing it neatly together.
Vegan Mushroom Gravy – The Simple Veganist: Quick and easy, this deceptively simple recipe requires only a few ingredients to produce a deliciously thick and creamy gravy without the use of a single dairy product. The result is completely vegan, and with a little modification can easily be made gluten-free as well for a side that everyone can enjoy.